Introducing our Guest Cornish Brewer of the Month … Spingo Ales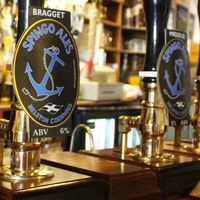 We are delighted to introduce Spingo Ale's as Baileys Country Store's first guest brewer for the month of October. There are so many amazing Cornish beers that we wanted you to try that we thought we  introduce this new guest appearance in the shop. If you really like them then we will look to keep them!
Legend has it that Spingo Ale has been brewed at the infamous Blue Anchor in nearby Helston for approximately 600 years. The Blue Anchor, Cornwall's oldest brewery is one of only four brew pubs in the country that has continued brewing throughout it's history. Now we can offer you the opportunity to enjoy these historic ales at home!